Delaney's Little Book of Poetry (2017-2018)
contents
Heart on a String
Untitled #1
Anesthetic
That Number Station
I Feel Mixed Up
Sickness / Fear / Guilt
Surgery 305
Sweet Sweet Cannibal
Untitled #2
The Midnight Lament, as written by Lanie Haddock in her Diary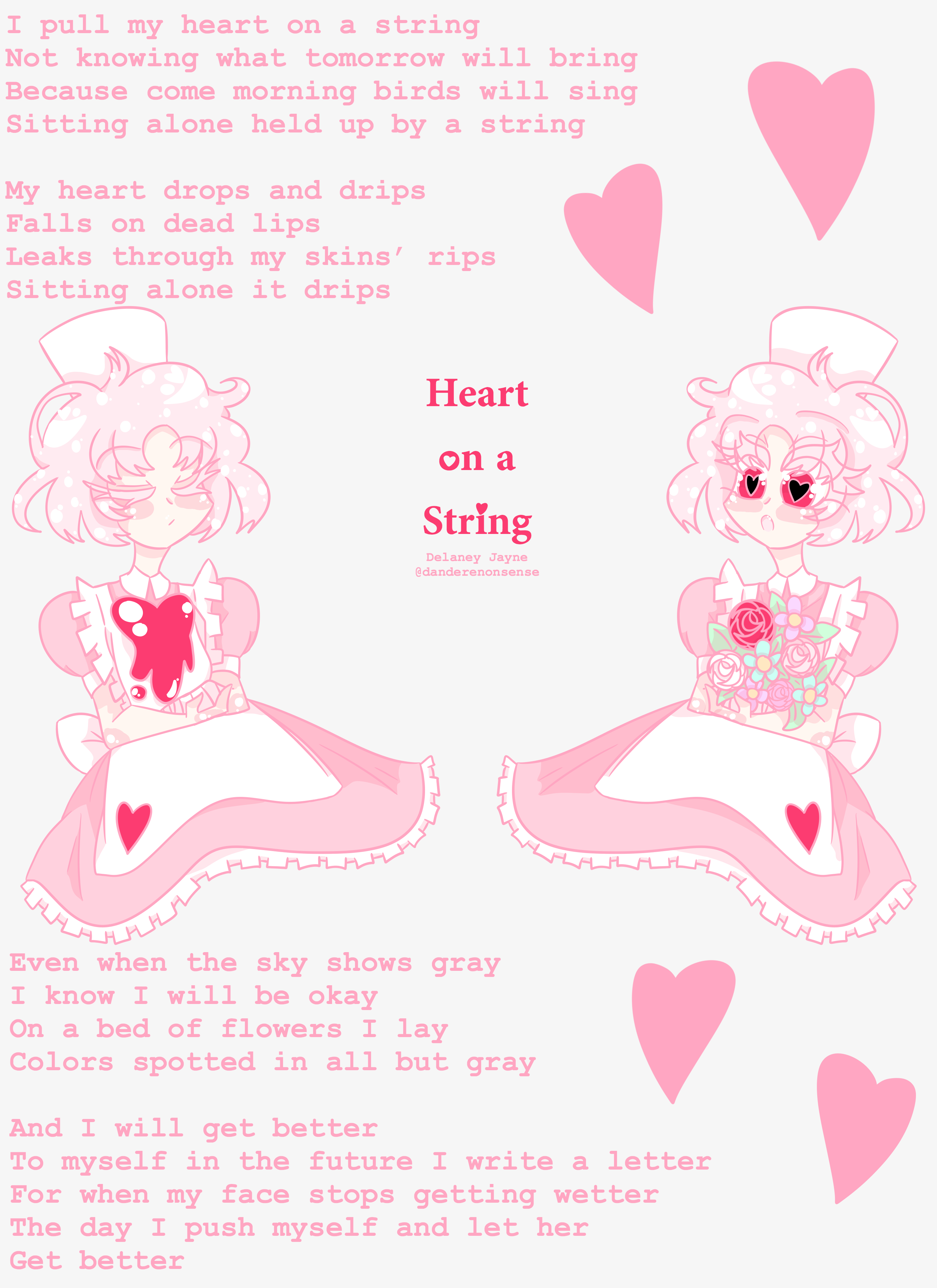 Heart on a String
(featuring art I made!)
I pull my heart on a string
Not knowing what tomorrow will bring
Because come morning birds will sing
Sitting alone held up by a string
My heart drops and drips
Falls on dead lips
Leaking through my skin's rips
Sitting alone it drips
Even when the sky grows gray
I know I will be okay
On a bed of flowers I lay
Colors spotted in all but gray
And I will get better
To myself in the future I write this letter
For when my face stops getting wetter
For the day I push myself and let her
Get better
Untitled #1
I found a corpse in the drawing room
And stuffed it under my bed
I didn't know what to do with it
So it's rotting there instead
Anesthetic
Adorable candy floss filled
Needles lined up
Easily removable
Surgical tape
Teaspoons of asbestos
Healing mind and soul
Eaten up broken brain matter
Skinning the cats that come in
Inspiring the sadists and the surgeons
And the bell rings
That Number Station
Music is coming from that number station
In coded messages, a declaration
From a long time ago
In a child's voice, odd and low
Swedish Rhapsody, play your song
From an old antenna, the sounds belong
Sounding like a person, a woman or child
Casting into the uncanny valley, mild
Is it human> Not at all
Synthesizing voices they had the gall
2 8 8 3 4
It's been heard before
From the cold war, it's still playing
Stuck in Sad Satan to leave confidence delaying
That sweet little number station
In that old radio, a declaration
I Feel Mixed Up
I want to be cute
Sweet, soft and pink
But I continue to dispute
And I don't know what to think
I sit in bland and black
With no sparkles or gleams
Knowing what I lack
And breaking at the seams
It makes me feel fake and bad
Like an image to always hold
But I know it's a simple fad
And I won't ever meet the fold
People are prettier than me
Feeding my jealousy
They're inspiring to see
And spiking my anxiety
Lined up on social media
Sharing and exressing
They fit my perfect idea
But my aesthetic is missing
It shouldn't make my stomach tie in a knot
Feeling inferior
But it scrunches up and makes me not
Want to be happy or
Be comfortable in my own skin
Sickness / Fear / Guilt
Is your sickness acting up?
The tools won't reach you here
This hospital has been abandoned for years
It's getting dark now- speed up!
Somewhere- the click of heels
Blood is on the walls
Dripping down the halls
There's an old chair, squeaking wheels
Are your fears acting up?
This nurse is not right
No perscription to write
And a pristine cover up
Now- she's running now
Bloody mask and eyes black
There's no looking back
The pipe, grab it now!
Are your guilts acting up?
Her brain's scattered on the ground
Black and red with an awful sound
There's more clicking- it's a roundup!
Surgery 305
Surgery 305
Grab the dove and your knives
Now it's surgery 305
On the table she dies
Patient 466
Is done with her tricks
The succubus 466
Won't be dying quick
Doctor #2
Has nothing to lose
Young doctor #2
Has a hate to persue
In surgery 305
Morals will untie
Now surgery 305
Is the last she will lie
Sweet Sweet Cannibal
Sweet sweet cannibal
Dressed up in lace
Little angel who had to fall
Peeling off dinner's face
Sick sick boy eater
Pink tights drenched and bright
A meat pie for later
In the freezer's dim light
Soft soft kitten
And a taste for human veins
A desire that she gave in
Dogs pulled in by the reins
Silly silly serial killer
Heart full of soot
No one will ever catch her
If she first takes the foot
Untitled #2
While we are dancing
Boils are lancing
Under the dancefloor
Proclaiming an encore
Lavish in sin
This evil within
The Midnight Lament, as written by Lanie Haddock in her Diary
The holy midnight moon
Brings our tears so soon
Crying over blood and spit
Who will be buried in the pit?
The dear midnight lament
So we never forget
Dear dames and abandoned girls
Chained here, clinging here, obey the rules!
Together, mother moon, we know here
Inmates overcome with fear
Our sisters among cloud and star
With the midnight moon, watching from afar
Yes, lovely midnight lament
Dry our eyes and make permanent
Our soft kisses before early morning sleep
For in private confidence, we weep
A prayer to the midnight moon
Our dove, taken too soon
None of us will submit
Until hellfire is lit!